1

Statement of Solidarity from Editorial and Advisory Board

Published on Latinx Talk on June 5, 2020

Latinx Talk Editorial and Advisory Boards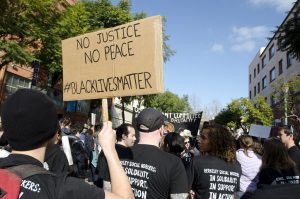 The Editorial and Advisory Boards of Latinx Talk join with the millions of individuals across the United States and the world who are marching, writing, speaking, and advocating for justice for George Floyd, Breonna Taylor, Ahmaud Arbery, and the many other people of color who have been denied their lives, due process, and humanity by law enforcement. We join with the millions across the U.S. and the world calling for transparency and accountability on behalf of these individuals and their families and we stand in solidarity with the Black Lives Matter Movement. We call on police departments across the country to de-escalate their responses to the largely peaceful protests and, in these pandemic times, to allow protestors enough space to demonstrate peacefully and safely. We join with protestors in demanding a re-examination of policing and criminal justice at every level of our nation. And we demand that our political leaders not only dismantle systems that continue to reproduce racial injustice, but that they also address the economic disparities between struggling communities of color and the economically privileged.As a site dedicated to the publication and amplification of critical scholarship on issues affecting members of the Latinx community, we also want to emphasize the important role of academic research and knowledge in facilitating discussions to dismantle the systems that perpetrate violence against Black and Latinx communities. It is especially important during this time to reflect on the ways that anti-blackness has been perpetuated within the Latinx community and to recognize the multifaceted nature of Latinx identities, including those of our Afro-Latinx brothers and sisters. Therefore, we as Latinx Talk's Editorial and Advisory Boards commit ourselves to publishing more research and commentary on criminal justice reform, incarceration and migrant detention, and racist violence. We also re-commit ourselves to maintaining an ethnically, racially, and gender diverse board. Overall, we pledge ourselves and our site to continue addressing the structural problem of racist violence through research, advocacy, and the uplifting of Black, Latinx, and Afro-Latinx experiences and perspectives.