Acknowledgements
Anna Andrzejewski
A fieldschool is a special thing. It offers a rare opportunity to come together for an immersion experience (in this case over the course of a college semester working on this e-book). It's safe to say that this class formed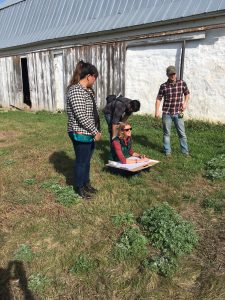 lifelong bonds – between one another and with the special place where most of us spent five days in late September of 2018: southwestern North Dakota (and more particularly, Stark County).
We are immensely grateful to the individuals who took time to guide some of us on all-day tours in Stark County without which we would not have understood the scale of our work or the scale of the landscape. Tyler Schoch lead us around Schefield and surrounding areas. His knowledge of German-Russian farmsteads and families and his company were unmatched, and we cannot begin to thank him enough for sharing so much of his time and thoughts with us. Peter Betchner and Bob Lefor led several of us on an all-day tour of the Lefor area, introducing us to a similar, yet slightly different, landscape: that of the Germans from Hungary. It's almost as if Pete and Bob knew what a full-scale Vernacular Architecture Forum (VAF) tour was – and while they probably didn't understand why we were so excited, we hope they know that it was an unparalleled opportunity to see some of the most incredible stone structures in North America, hands down. We also wish to thank the staff at the Dickinson Museum Center, especially Alison Hinman, who always graciously give us time and advice.
Others opened there farmsteads (some of them for the second and third time) to us. We cannot thank Chet and Ruth Steier enough for their generosity and grace. Introducing us to the Sebastian Frank Farm gave us a whole new set of research questions which will probably lead us back to them again (just kidding). Jeff Frank helped identify other buildings for research while also graciously agreeing to an interview with us. We also want to thank the Freemans, Melvin Schoch, Isiah Binstock, Gerald Binstock, and True White for allowing us to bring out the measuring tape.
Interviews are one of the best ways to understand sense of place. As you will hear see in this book, several individuals allowed us to record them – and their stories make this book richer. Their time and energy, even when it was likely inconvenient for them, is so appreciated. Nick Olheiser talked with us for over an hour and a half (Joanna Wilson's chapter focuses on this) about his knowledge of Scheffield and the larger region. Geneva Steier talked to us for a second time about her recollections. And Jeff Frank graciously agreed to allow us to record some of his immense knowledge of his family history. Others we spoke with in the Lefor area – including Arnie Anton – we can't thank you enough.
Also we want to thank several individuals at UW-Madison. Troy Reeves, Oral Historian in the Archives, lent us valuable equipment and helped us with best practices in interviewing. Naomi Salmon helped us with PressBooks, and we would have been lost without her guidance. Jaime Martindale in the Map Library in the Department of Geography also lent us expertise at key moments.  Finally, staff in the Art History office, especially Chris Stricker, Clare Christoph, and Diane Bollant helped tremendously with logistics.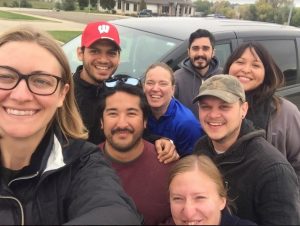 Finally, I want to give a shout out to this exceptional group of students. I could have not asked for more from them. I feel they all gave 200% on this project. There was a certain chemistry in this group from Day 1, which seemed only to grow as the semester wore on. The fact that they are talking about going back to North Dakota says it all. I can't wait to be there with them the next time.
December 2018