Sample Activities for Language Instruction
Multimodal Activity with Worksheet Export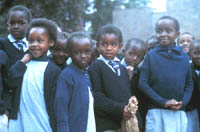 Rosa alikoma kutembea na mvulana ye yote. Alikaa peke yake. Hakuzungumza sana. Zakaria alifurahi. Hakujua Rosa alihitaji kujua wavulana kwa ajili ya maisha yake ya mbeleni.
Charles aliondoka Namagondo. Alikwenda shule ya Mkwawa. Rosa alichaguliwa kwenda shule ya sekondari ya wasichana katika mji mwingine. Sasa alihitaji pesa kununua shuka mbili, sanduku, na viatu, na pia barua ilimtaka aje shuleni na shilingi themanini. Lo! Zakaria hana pesa. Kwa hiyo, yeye na Regina wakakubaliana kwamba watauza ng'ombe mmoja.
Siku moja usiku Zakaria aliondoka. Alikwenda kunywa pombe. Regina pamoja na binti zake walikula chakula cha jioni pamoja. Regina aliongea na Rosa na watoto wengine akiwaonya wawe waadilifu. Alimwambia Rosa kwamba wasichana wengi wa shule hupata mimba. Wengi wao hutoa mimba hizo, yaani huua watoto, kwa vile hawataki kufukuzwa shule. Alisema pia kama Rosa akipata mimba asiitoe. Regina alisema kwamba atamsaidia kumtunza mtoto.Kwenye mwisho wa sura, Zakaria alirudi nyumbani, akawatisha watoto wote na Regina pia na mzaha wake wa "nyoka".
The source of this example is Rosa Mistika, an open textbook created by Katrina Daly Thompson, Amy Clay, Rebecca Mandich, Pamela Kimario, Serah Kivuti, David Lukachi, Mwita Muniko, Vincent Ogoti. This work is licensed under a Creative Commons Attribution-NonCommercial-ShareAlike 4.0 International License.