M6 | Integrative action of the sensorimotor system – Cerebellum & Basal ganglia
Clinical Signs of Cerebellar Damage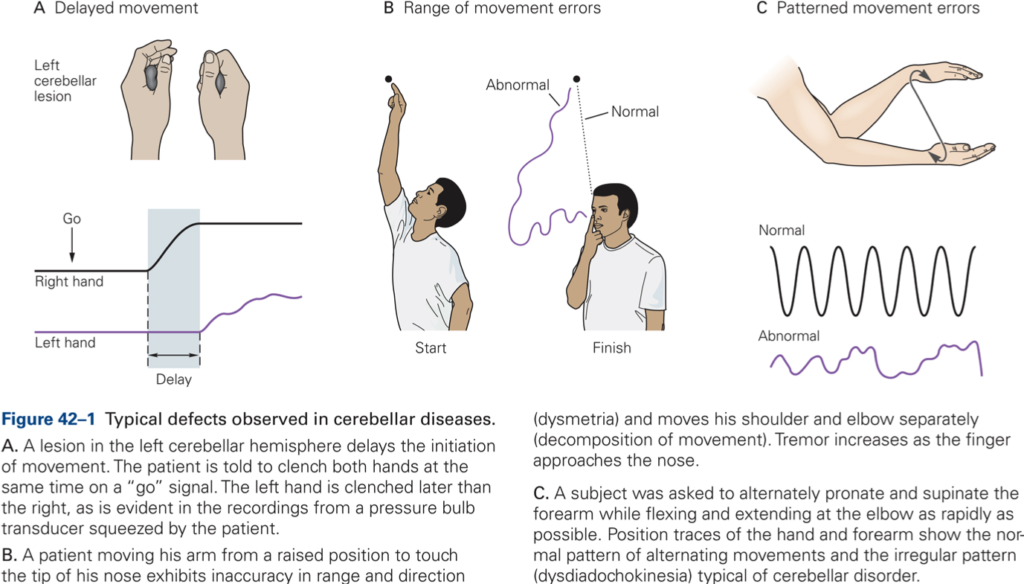 Ataxia
Syndrome characterized by a breakdown of movement coordination and inaccuracies when reaching for a visual target.  Ataxia includes:
Dysmetria (inaccurate movement amplitudes)
Asynergia (poor coordination between joints, decomposition of movement)
Intention tremor
Dysdiadochokinesia (inability to perform rapidly alternating movements smoothly)
Hypotonia and pendular knee jerks.
Localization of function (somatotopic organization)
Lesions in intermediate and lateral CB give rise to ataxia of individual limbs; lesions in medial CB results in poor equilibrium and falling, ataxia of gait (walking).
CB damage prevents modification and adaptation of behaviors, that is, it has a function in motor learning.
References
Voogd, J., & Glickstein, M. (1998). The anatomy of the cerebellum. Trends in Neurosciences., 21(9), 370-375. [PDF]
Glickstein, M. (2000). How are visual areas of the brain connected to motor areas for the sensory guidance of movement? Trends in Neurosciences., 23(12), 613-617. [PDF]
Glickstein, M. (2007). What does the cerebellum really do? Current Biology, 17(19), R824-827. [PDF]