D37.4 Heterogeneous Catalysts
A heterogeneous catalyst is present in a different phase from the reactants. Such catalysts are usually solids, and often function by furnishing an active surface upon which one or more steps in the reaction can occur.
A heterogeneous catalytic reaction has at least four steps in its reaction mechanism:
Adsorption of the reactant(s) onto the surface of the catalyst
Activation of the adsorbed reactant(s)
Reaction of the adsorbed reactant(s)
Diffusion of the product(s) from the surface into the gas or liquid phase (desorption)
Any one of these steps may be slow and thus may serve as the rate determining step. But the overall rate of the reaction is still faster than it would be without the catalyst. The figure below illustrates the reaction of alkenes with hydrogen on a nickel catalyst.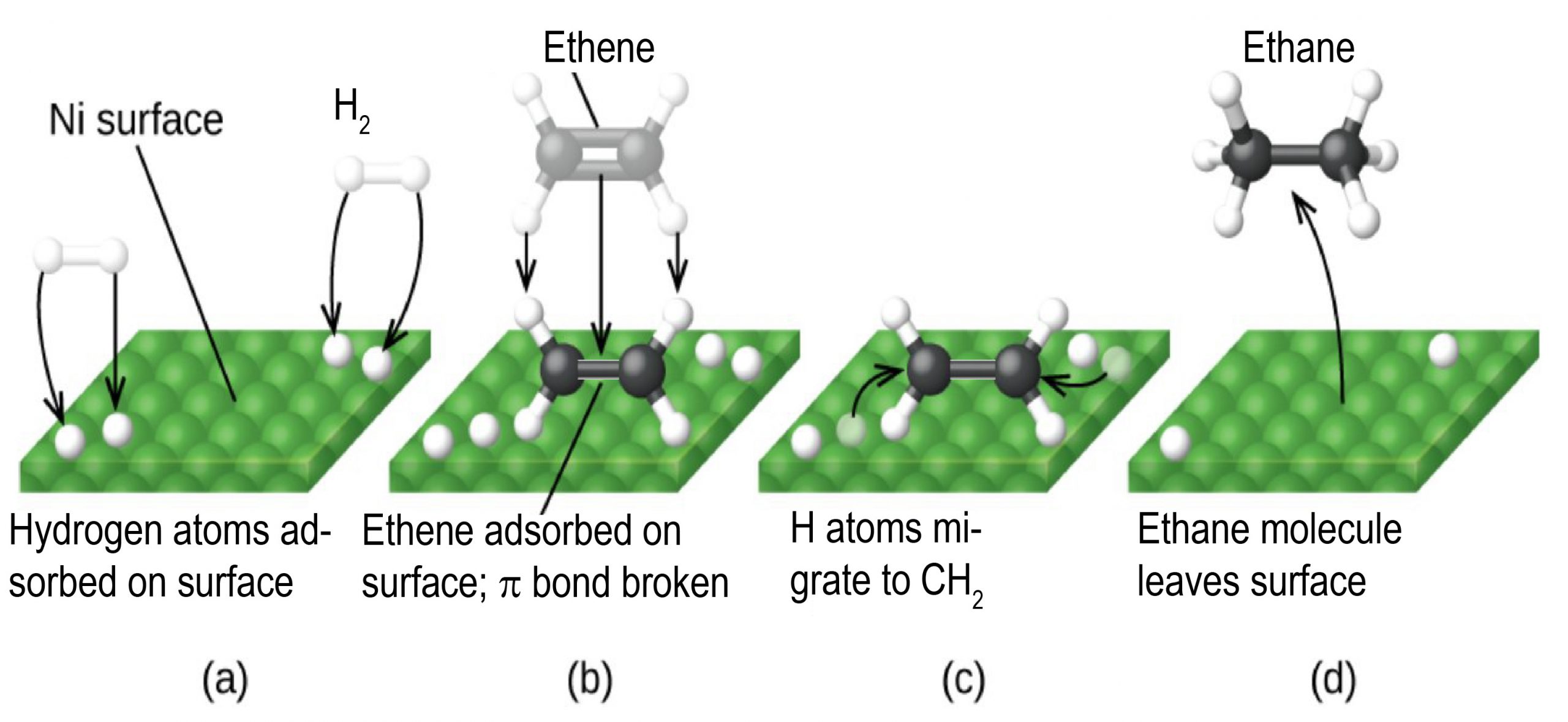 The uncatalyzed C2H4(g) + H2(g) ⟶ C2H6(g) reaction would necessitate a transition state where the C=C π bond and the H-H σ bond are breaking while the two C-H σ bonds form. Such a transition state is so high in energy that without a catalyst, H2 is considered as being unreactive towards alkenes under most conditions.
Nickel is a catalyst often used in the hydrogenation of polyunsaturated fats and oils to produce saturated fats and oils. Other significant industrial processes that involve the use of heterogeneous catalysts include the preparation of sulfuric acid, the preparation of ammonia, the oxidation of ammonia to nitric acid, and the synthesis of methanol. Heterogeneous catalysts are also used in the catalytic converters found on most gasoline-powered automobiles.
Exercise: Catalysis and Reaction Energy Diagram

Exercise: Catalytic Mechanisms

Comments
Please use
this form
to report any inconsistencies, errors, or other things you would like to change about this page. We appreciate your comments. 🙂