Day 2 Pre-Class Podia Problem: Atomic Orbitals

This Podia problem is based on today's pre-class material; working through that material will help you solve the problem.
Consider diagrams A and B and these two sentences: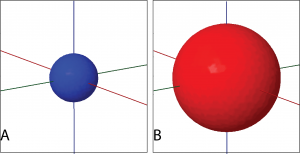 The surface shown in each illustration of an atomic orbital is chosen so that the entirety of the electron's wave function is enclosed.
An electron with electron-density distribution A has higher energy than an electron with electron-density distribution B.
Decide whether each sentence is correct. Rewrite all incorrect text so that it is correct. Be brief but include all important ideas and use scientifically appropriate language.
Two days before the next whole-class session, this Podia question will become live on Podia, where you can submit your answer.
Comments
Please use
this form
to report any inconsistencies, errors, or other things you would like to change about this page. We appreciate your comments. 🙂